INFINITY CARS BRINGS TO ITS CUSTOMERS INTERNATIONAL STANDARDS OF SALES & SERVICES ACROSS EACH OF THE BRANDS WE REPRESENT. WE COMMENCED OPERATIONS IN MARCH 2007. SINCE THEN WE HAVE INVESTED SUBSTANTIAL AMOUNTS IN ESTABLISHING BEST IN CLASS FACILITIES ACROSS THE BREADTH OF OUR OPERATIONS.
BMW: Showroom: Worli, Nariman Point, Juinagar (Navi Mumbai), and Indore
BMW Premium Selection: Showroom: Worli, Juinagar (Navi Mumbai)
BMW: Aftersales: Lalbaug, Turbhe (Navi Mumbai), Indore
MINI: Showroom: Worli Aftersales: Lalbaug, Turbhe (Navi Mumbai)
Ducati: Showroom: Santacruz Aftersales: Worli
Lamborghini: Showroom: Prabhadevi Aftersales: Turbhe
Porsche: Showroom: Santacruz Aftersales: Turbhe
McLaren: Showroom: Prabhadevi Aftersales: Turbhe
Rolls Royce: Aftersales: Turbhe
At each of our locations, we have strived to meet the exacting requirements of the Brand and our customer base. Our Worli BMW showroom is a unique three level new and pre-owned car display unlike any other in South Mumbai. Our showroom at Maker Chambers VI, Nariman Point is unique in being the only premium car showroom located in the prestigious business district. At Juinagar, we have established a five level showroom that sets a benchmark in contemporary automotive retail spaces. The Lamborghini showroom offers customers a high-end boutique environment and the ability to custom specify the cars according to their preferences. The Porsche Showroom at Linking Road offers customers a window into the Porsche world where the range of cars can be seen and custom cars can be configured. The McLaren showroom juxtaposed alongside offers customers India's first experience center for the brand. Our Ducati showroom on Linking Road at Santacruz offers customers a premium experience suitably differentiated from others.
Our after-sales facility at Turbhe (Navi Mumbai) spread across 120,000 sq.ft. is the largest such facility in the country and dedicating to the service requirements of our luxury car owners including for BMW, MINI, Rolls Royce, Lamborghini, Porsche and McLaren. The Ducati service facility at the Worli high street is an unmatched location for aftersales that best offers personalised service to our biking customers.
We have continuously strived to reach out to our customers through offering a sales and after-sales touch point in close proximity to them. We have carefully evolved our brand and facility portfolio to best meet the needs of the high-end automotive customers and be regarded as among the leading luxury automotive dealership franchises in the country.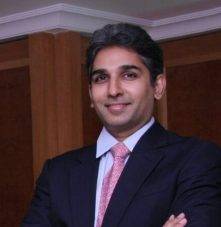 Mr. Lalit Choudary

–

CMD Infinity Cars
Lalit Choudary is the Chairman and Managing Director of Infinity Cars Private Limited. Infinity Cars was established in 2006 with a vision to become the leading luxury car dealership group in the country. Since its inception the team at Infinity Cars have worked assiduously to realise this vision. Currently the company is the leading dealer for BMW in the country (with representation in Mumbai, Navi Mumbai, Indore and New Delhi) and MINI (with representation in Mumbai. Infinity Cars represents Lamborghini, Porsche, McLaren and Rolls Royce (service) in the high luxury automotive segment and Ducati among sports bikes. Under his leadership, Infinity Cars continues to evolve and has become the partner of choice to luxury and high luxury automotive brands seeking to best cater to the Indian consumer.
Lalit graduated as an Engineer and subsequently studied business at the Indian Institute of Management, Kolkata. Lalit pursued a career in Investment Banking and worked at DSP Merrill Lynch in Mumbai and subsequently for close to a decade at Lehman Brothers in Hong Kong and Mumbai. Lalit excelled as an Investment Banker and worked on marquee transactions, including most notably the IPO of DLF, India's largest real estate company and India's largest IPO at that time.
Lalit is credited with having brought Lehman Brothers to India and in subsequent years established Infinity Cars, which set up the first MINI dealership and McLaren importership in India. Infinity Cars was also appointed as BMW dealer and Ducati dealer when the brands first made their official foray into the country.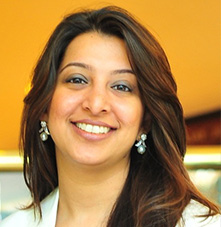 Ms. Pooja Choudary –

MD Infinity Cars
Pooja Choudary is the Managing Director of Infinity Cars Private Limited. She founded the company in 2006 along with her husband, Lalit Choudary. Pooja has been unflinching in her commitment to make Infinity the preferred dealer for luxury and high luxury customers across our target markets. She has led the team from the front to ensure the company gains disproportionate mind share and enjoys unmatched customer loyalty. Pooja is hands-on in her management approach and ensures the team is held to the highest standards of integrity and ethical business conduct.
Pooja graduated from Jaihind College. She earned her B.Arch from the Rachna Sansad Academy of Architecture. She pursued a career in Architecture for six years in Mumbai and Hong Kong. While she had a successful innings in Architecture, she took up the challenge to set up a family business when an opportunity came their way upon re-locating from Hong-Kong to Mumbai in 2006.

Although new to the automobile business, Pooja has led the Infinity team from the front and built a culture of transparency and customer centricity. She has assembled an experienced and capable team to make an early impact in the industry. They have grown a customer following with a constant focus on offering reliable and high-quality service.Read more..