One of the most popular luxury SAVs in the world is the BMW X5, and for good reason. For India, the new BMW X5 is the perfect luxury SAV. It provides an optimal combination of functionality, luxury, and practicality. Additionally, it is among the best off-road vehicles currently available. The new X5 is available in the xLine and M Sport trim levels. The new BMW X5 is sure to impress both lovers of luxury SAVs and car enthusiasts with its updated exterior styling, interior, and strong engine options.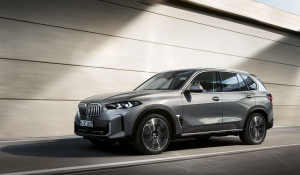 Updates to the New BMW X5's Design
Numerous aesthetic updates to the new BMW X5 improve the vehicle's overall appeal. The SAV now has a redesigned exterior, including matrix adaptive LED headlights with blue accents that give it a standout appearance on the road. The illuminated kidney grille, which gives the SAV a touch of elegance, is the most notable update. In addition, the X5 comes standard with 21-inch alloy wheels, a redesigned rear bumper, and taillamps. The M Sport trim, which comes with a front apron designed specifically for the model, M high-gloss Shadowline trim, and black roof rails, further enhances the car's sporty appearance
The interior of the new BMW X5 has been completely redesigned and now oozes luxury and sophistication. The latest iDrive 8.0 software from the manufacturer powers both the 14.9-inch touchscreen infotainment system and the 12.3-inch digital instrument cluster housed in the cabin's curved display. The SAV also has a panoramic sunroof, augmented reality heads-up display, and many safety features like cruise control, drive recorder, and an attentive assistant. Additionally, BMW has unveiled the "Parking Assistant Professional," which comes with a surround-view camera, reversing assistance, and remote parking via a smartphone. Each of these features is included in the standard package.
The BMW X5's Powertrain Options
To accommodate a variety of preferences, the new BMW X5 is offered with both petrol and diesel engine options. The 3.0-liter, six-cylinder petrol engine in the xDrive40i variant makes an impressive 375 bhp and 520 Nm of torque. The 3.0-liter, six-cylinder diesel engine in the xDrive30d variant, in contrast, produces 282 bhp and 650 Nm of torque. Whether diesel or petrol, and no matter how many cylinders, the engines from the BMW Efficient Dynamics engine family allow more agile power delivery and outstanding responsiveness even at low rpm, while being fuel-efficient and low in emissions. The new X5 also has an adaptive air suspension with a self-leveling feature that improves comfort and stability on all kinds of roads.
Luxury and Convenience Features
Automatic 4-zone climate control provides the driver, front passenger, and right & left rear passengers with their own personal climate comfort levels.
Seats with electrical adjustment and high-quality leather upholstery provide ideal comfort & seating position.
Interior lighting is relaxed with ambient lights, which includes ambient contour lighting in the front and rear doors. There are six dimmable lights available in white, blue, orange, bronze, lilac, and green. The Panorama Glass Roof lets in plenty of fresh air when it's open. Also, when closed, it fills the interior with lots of bright light. It has slide and lift functions, a roller sunblind, and a wind deflector, and it opens and closes fully automatically with the touch of a button.
The X5 is equipped with cutting-edge technological features that make parking and reversing easier, like a surround-view camera and a drive recorder.
M-Sport Package for Enhanced Style and Performance
The M Sport package is the ideal option for those looking to add a little sportiness to their BMW X5. This package comes with black high gloss roof rails, an M-specific front apron, and various M badges all over the car. The M-Sport package includes luxurious leather "Merino" upholstery as well as M-Sport seats, an M-specific leather steering wheel, anthracite headliner, M footrest and pedal covers, M-specific keys, and door entry sills. This package not only ups the X5's style factor but also gives its performance a sporty edge.
Performance and Efficiency
The brand-new BMW X5 is built to provide outstanding performance while maintaining fuel efficiency. The xDrive40i variant's 3.0-liter, six-cylinder turbo petrol engine produces 520 Nm of torque in addition to 381 horsepower. This engine gives the X5 an exhilarating driving experience by allowing it to accelerate from 0 to 100 km/h in just 5.4 seconds. In contrast, the 3.0-liter, six-cylinder turbocharged diesel engine in the xDrive30d model generates 286 horsepower and 650 Nm of torque. The X5 can accelerate from 0 to 100 km/h in just 6.1 seconds thanks to its diesel engine. A 48V electrical motor is fitted in both engines, adding more power and torque for improved performance.
Advanced Safety and Technology Features
The new X5 continues BMW's history of being at the cutting edge of innovation when it comes to safety and technological features.
BMW Laserlight:
The range of the BMW Laserlight with X Signature in laser high-beam mode is up to 600 m, which is nearly twice as far as the range of conventional headlights. Safety is significantly increased by improved nighttime visibility.
Agile Steering:
The foundation for agile steering, high precision steering, and sporty driving dynamics is the extremely torsionally stiff but light body construction.
Airbags for safety:
The best all-around protection for passengers, in a BMW, the front and rear airbags are part of the carefully synchronized safety system. Six airbags provide comprehensive protection: the driver and front passenger airbags, the side head airbags that cover the entire window surface, and the front-integrated side airbags.
ABS & CBC:
With the assistance of targeted brake pressure modulation, the Anti-lock Brake System (ABS) and Cornering Brake Control (CBC) assist in preventing individual wheels from locking up during braking and prevent the vehicle from turning in when applying light brake pressure while experiencing significant lateral acceleration.
Dynamic Stability Control:
When unstable driving conditions are detected, Dynamic Stability Control (DSC) continuously monitors the vehicle's movements and stabilizes it using engine and braking regulation.
Hill Descent Control:
The BMW X5 has a system called Hill Descent Control (HDC) that, when engaged, makes sure the car can safely and automatically handle the steepest downhill runs at a speed slightly faster than walking without the driver having to brake.
Pricing
BMW X5 is available in India at an ex-showroom price of ₹ 1,04,90,000, and you can explore the various financing options available at Infinity Cars Mumbai that suits your preferences.
The new BMW X5 is poised to redefine the luxury SAV market in India with its updated design, opulent interior, strong engine options, and cutting-edge safety features.
In conclusion, the new BMW X5 is the ideal fusion of design, functionality, luxury, and cutting-edge technology. The X5 offers a thrilling driving experience thanks to its updated exterior styling, modernized interior, and strong engine choices. The new X5 is prepared to take on any challenge, whether you're driving down the highway or navigating off-road trails. If you are looking for a luxurious SAV that can do it all, then the new BMW X5 is the perfect choice for you.
You can visit your nearest BMW Infinity Cars at Worli, Nariman Point and Juinagar for the most accurate and up-to-date pricing information, financing options, warranty details, customizations and more.